Fabienne Audéoud
— I Am Not A Woman —
25 mars - 30 avril
Peut-être que ça a à voir avec l'opéra, je trouve qu'il y a toujours quelque chose de très déclamatif dans ton travail, en tout cas de déclaratif, que ça soit dans les titres de tes pièces ou dans les phrases que tu peins « I Am Not A Woman », « No To Crucifixions », « Mohamed je t'aime »… Le statement n'est pas crypté. Oui mais mes pièces ne sont jamais une démonstration de savoir. Le titre c'est un espace de langage qui me permet de poser un problème, un problème que j'ai, pas un problème que je détecte chez les autres. Ce n'est pas une leçon que je donne, c'est ce avec quoi je me débats. Une tension non résolue. Ne pas être une femme, c'est mon problème actuel, et l'écrire, ça me met en difficulté moi et les gens qui me lisent. C'est une déclaration qui surgit, comme une révélation, après de nombreuses années de réflexion sur les questions de genre et parce que je sature du male gaze omniprésent et omnipotent. J'ai toujours ressenti que j'étais déficiente en tant que femme, maintenant, c'est évident, je ne suis pas dans cette catégorie. Pas envie de reconstruire après la déconstruction. I'm out. J'ai réalisé une série d'images avec Artbreeder, un logiciel d'intelligence artificielle qui permet (entre autres) de créer des avatars en mélangeant et en dosant des caractéristiques faciales tels que : âge, genre, asiatique, indien, noir, blanc, art, rouge, netteté, bonheur, colère, yeux bleus, boucles d'oreilles, bouche ouverte, cheveux noirs, blonds, bruns, maquillage, lunettes, pilosité faciale, chapeau. J'ai poussé certaines de ces données à saturation. On comprend qu'il s'agit de portraits mais ils n'ont plus aucuns traits, plus d'organes, ce sont juste des intensités de couleurs très vives. Dans le nom de ce logiciel, il y a littéralement l'idée de reproduction, d'élevage. Et à côté de ces images saturées, une meute de petits mannequins aux visages barbouillés. Comme la série des « Parfums de pauvres », les petits mannequins viennent de mon quartier, Barbès. Je les regarde souvent dans les vitrines de magasins de cérémonies (celles où, il me semble, se croisent les trois monothéismes). Cet excès dans les fausses perles, les faux diamants me fascine. Je fantasme depuis longtemps de présenter une vitrine comme ça dans une foire d'art contemporain. Mais je ne souhaite ni m'approprier cet imaginaire ni le reproduire pour le critiquer. J'ai donc choisi les petits mecs en costume. Leurs costumes sont ceux des businessmen, ceux du pouvoir, du savoir, de la compétence. Ce sont aussi ceux que je porte le plus souvent dans mes performances. Moi je pense tout de suite à Baby Boss, ce film d'animation où le bébé naît patron avec costard et mallette. Il prétend être un bébé devant ses parents mais quand personne ne le regarde, il passe des coups de fils et donne des ordres à ses peluches. Il est déjà super compétent et très flippant. Oui et puis les petits mannequins portent des baskets, ils peuvent courir, ils sont cools parce que compétiteurs. Contrairement à tes « Petits loups » en peluche avec leurs airs suppliants, eux n'ont pas de visage, donc on ne peut pas rentrer en contact avec eux. Ce sont des body snatchers ! Un petit-grand-remplacement imminent. Je pensais à la question de la régression, de la diminution mais en fait depuis tout à l'heure on parle plutôt d'empêchement ou de problèmes de qualification – qualification au sens de compétence et de caractérisation. Ne pas avoir les bons outils ou ne pas s'en servir correctement, s'auto-exclure d'une catégorie ou d'un groupe, bloquer sur la signification d'un énoncé… Toi, tu es dans la littéralité subie et revendiquée. Oui, mes pièces mettent en scène mes déficiences, dont celle de penser que les phrases disent ce qu'elles disent. Là, je porte un pantalon de costume de mec qui me va hyper bien et c'est un vrai problème pour moi. Qu'est-ce que je fous dans un costume de PDG ?
Elsa Vettier, d'après une conversation avec Fabienne Audéoud Mars 2023
*
It might be an opera thing as I find your work always has a declamatory element to it, or at least a declaratory one, in the titles your choose or the sentences you paint, such as "I Am Not A Woman", "No To Crucifixions", "Mohamed I Love You"… They are not cryptic statements. Yes but my work is never a demonstration of knowledge. Titles are a space within language where I can express a problem, one that I have rather than one that I'd pinpoint in others. It is not a lesson to be delivered but what I am actually struggling with. An unresolved tension. Not being a woman is my current problem, writing it is putting myself and whoever reads it in jeopardy. A claim arising from years of questioning gender issues, and a strong sense of saturation with the omnipresence and omnipotence of the male gaze. I've always felt deficient as a woman, now it's obvious I don't belong to this category. I'm not interested in re-constructing after de-constructing. I'm out. I created a series of images with Artbreeder, an Artificial Intelligence software allowing you to create avatars (amongst other things) by mixing facials elements such as Age, Gender, Asian, Indian, Black, White, Art, Red, Sharpness, Happy, Angry, Blue Eye, Earrings, Mouth Open, Black Hair, Blonde Hair, Brown Hair, Makeup, Glasses, Facial Hair, Hat. I pushed some of the data to saturation. One can figure out they are portraits, but they have lost their features and organs to bright coloured intensities. The software's name refers to the idea of reproduction and breeding. Next to these saturated faces stands a horde of small shop mannequins whose heads have been covered with colourful patches. Like for my previous series "Perfumes For The Poor", they come from Barbès, my Parisian neighbourhood. I often watch them in the windows of their ceremony shops (where it seems the three monotheisms meet). I am fascinated by the excess of fake pearls and false diamonds. I actually have this fantasy of installing such a shop window in a contemporary art fair. But I do not wish to reclaim or critically reproduce this imagery. That's why I chose the little guys in three-piece suits. Their costume is that of businessmen, power, knowledge and competence. They're also what I usually wear for my voice performances. As for me, what jumped to mind is the animation film The Boss Baby, where a baby is born a boss, suit and case included. He pretends to be a baby with his parents, but when alone in his room he gives phone calls and orders things around. He is already very skilled and very scary. Yes and the small shop mannequins wear trainers, they can run, they are cool, they compete. Unlike your little "Stuffed Wolves" with their begging eyes, they don't have a face to interact with. They are Body Snatchers! An impending little-big-replacement. I was thinking about the notions of regression, or decrease but it seems we've rather been talking about impediment or issues around qualification, both as in 'skills' and as in 'characterisation'. Not having the right tools or not being able to use them properly, taking oneself out of a category or a group, being stuck on the meaning of some utterances... You seem to be at the same time subjected to and claiming literality. Yes and the work I do is the staging of my deficiencies, including thinking that sentences say what they say. And I'm currently wearing the trousers of a man suit - which look really good on me and this is an issue. What on earth am I doing in a CEO suit?
Elsa Vettier, after a conversation with Fabienne Audeoud Mars 2023
The works presented in the show were produced with the help of
Fonderie Darling
and
Synagogue de Delme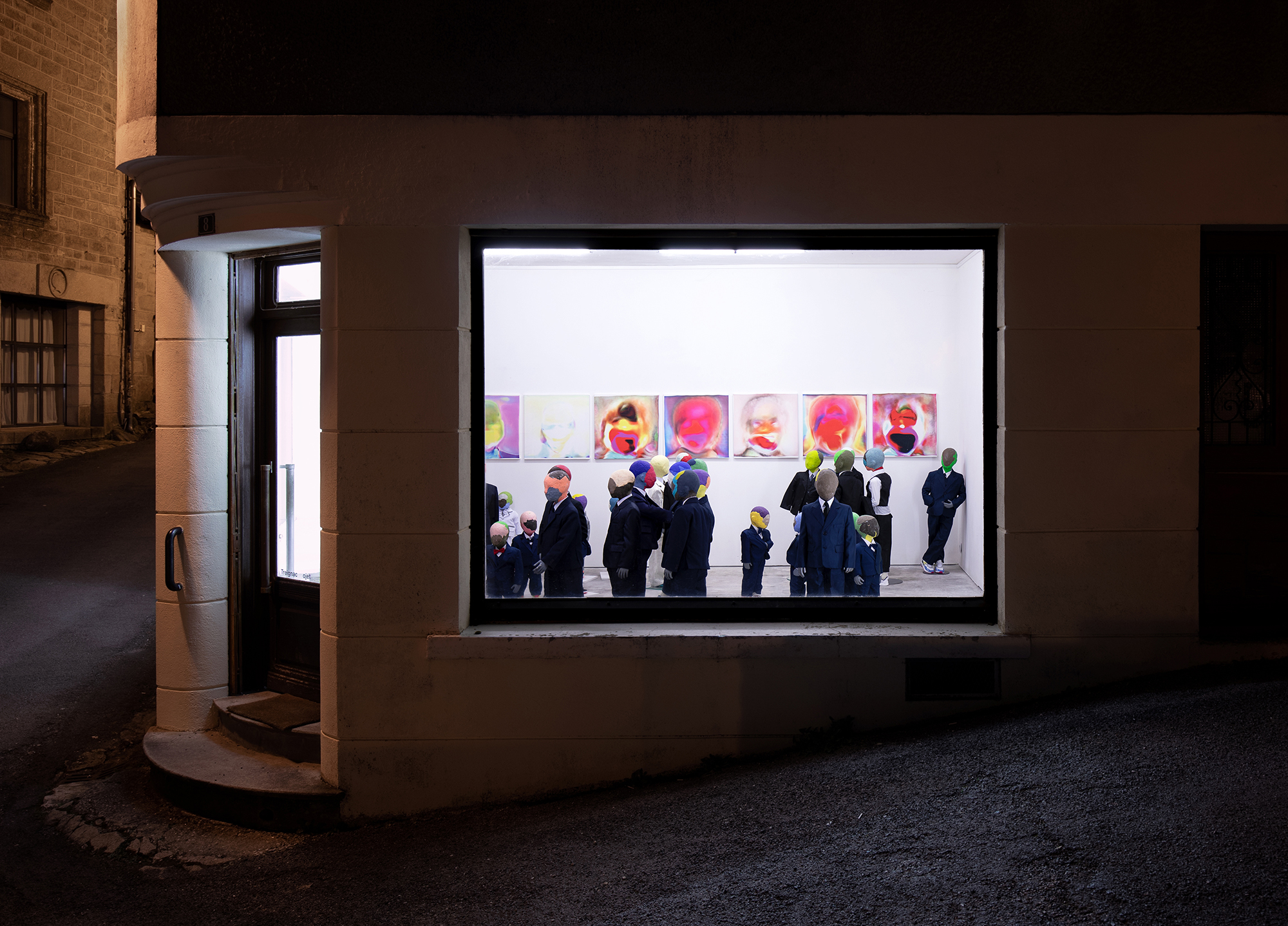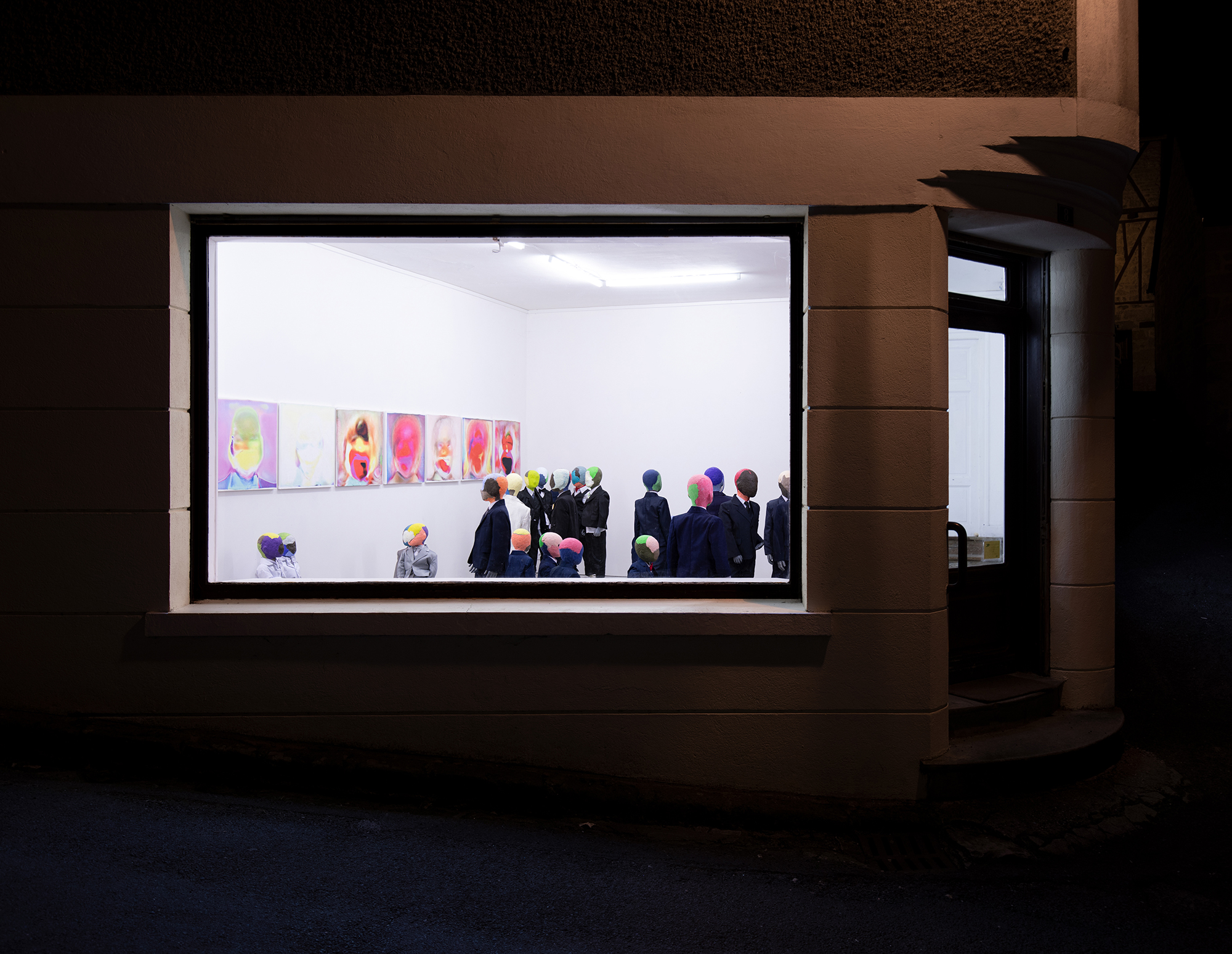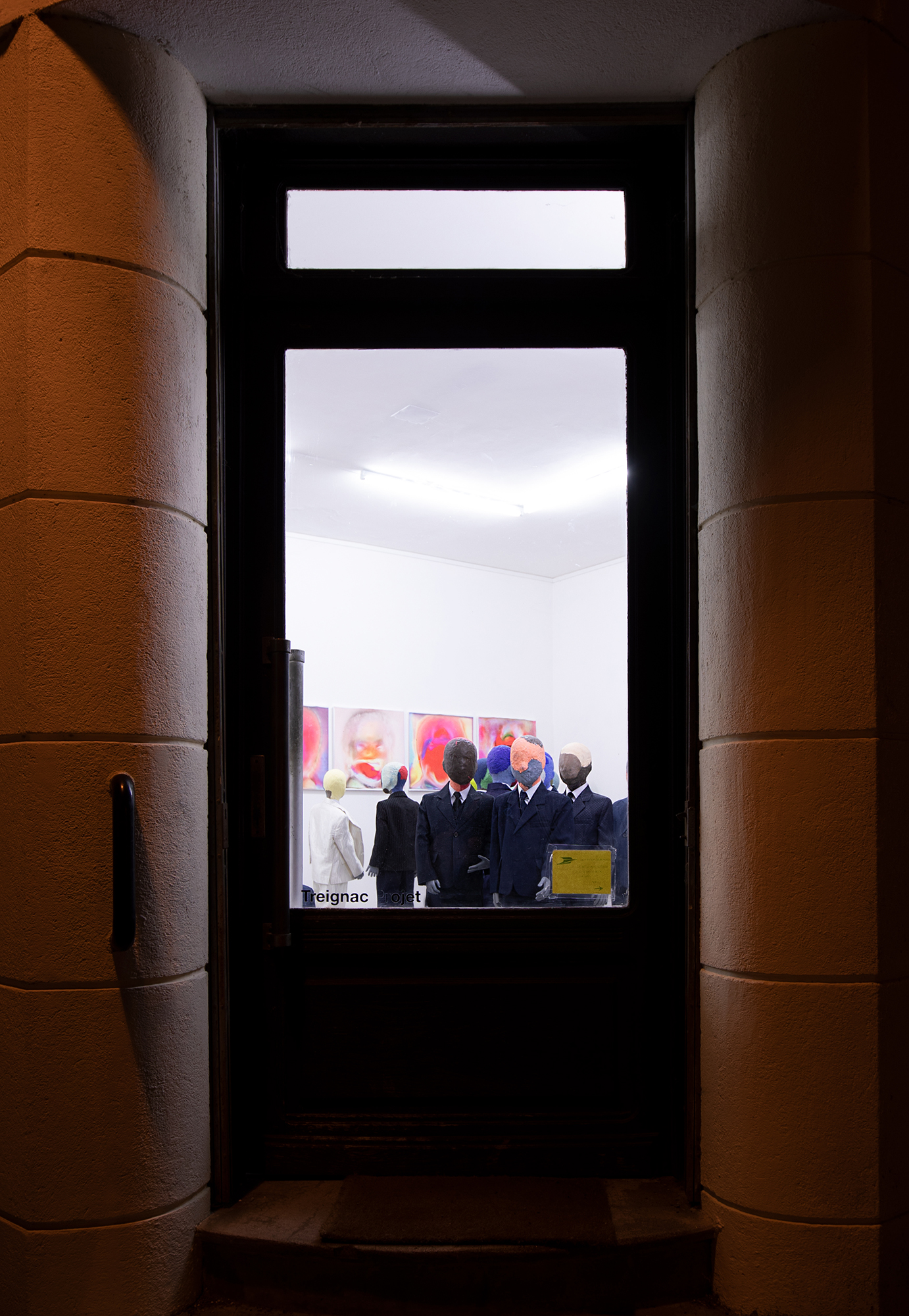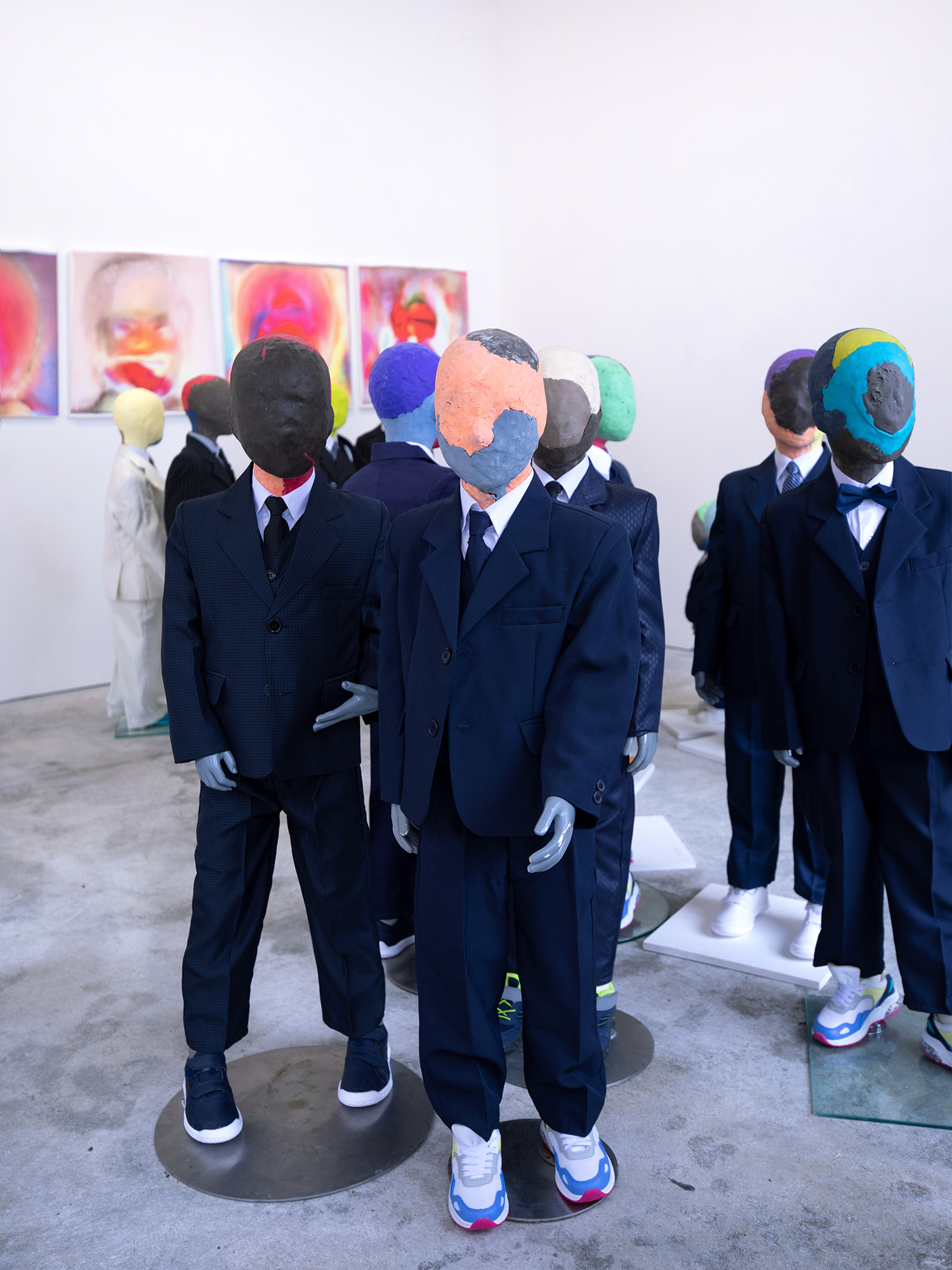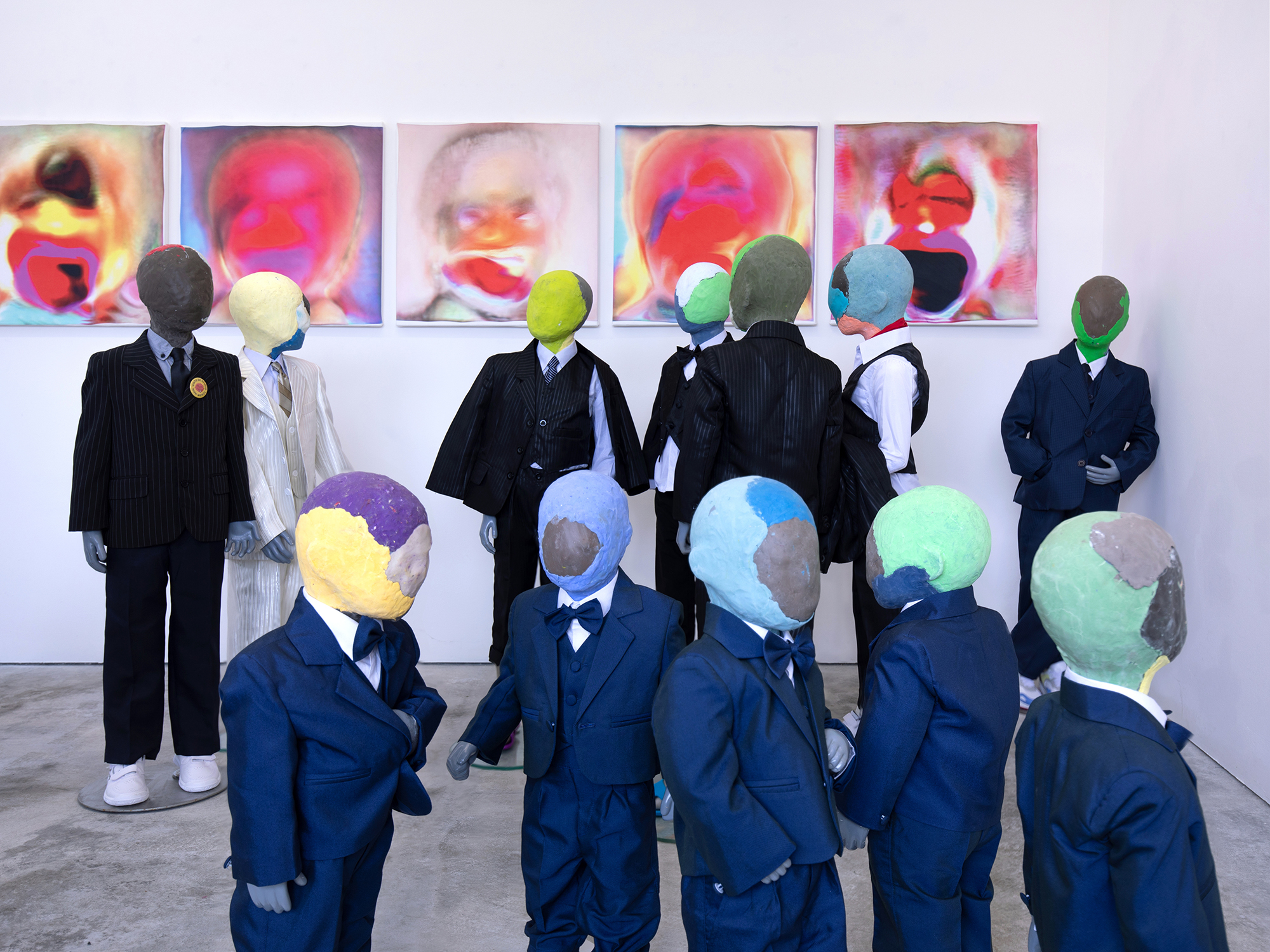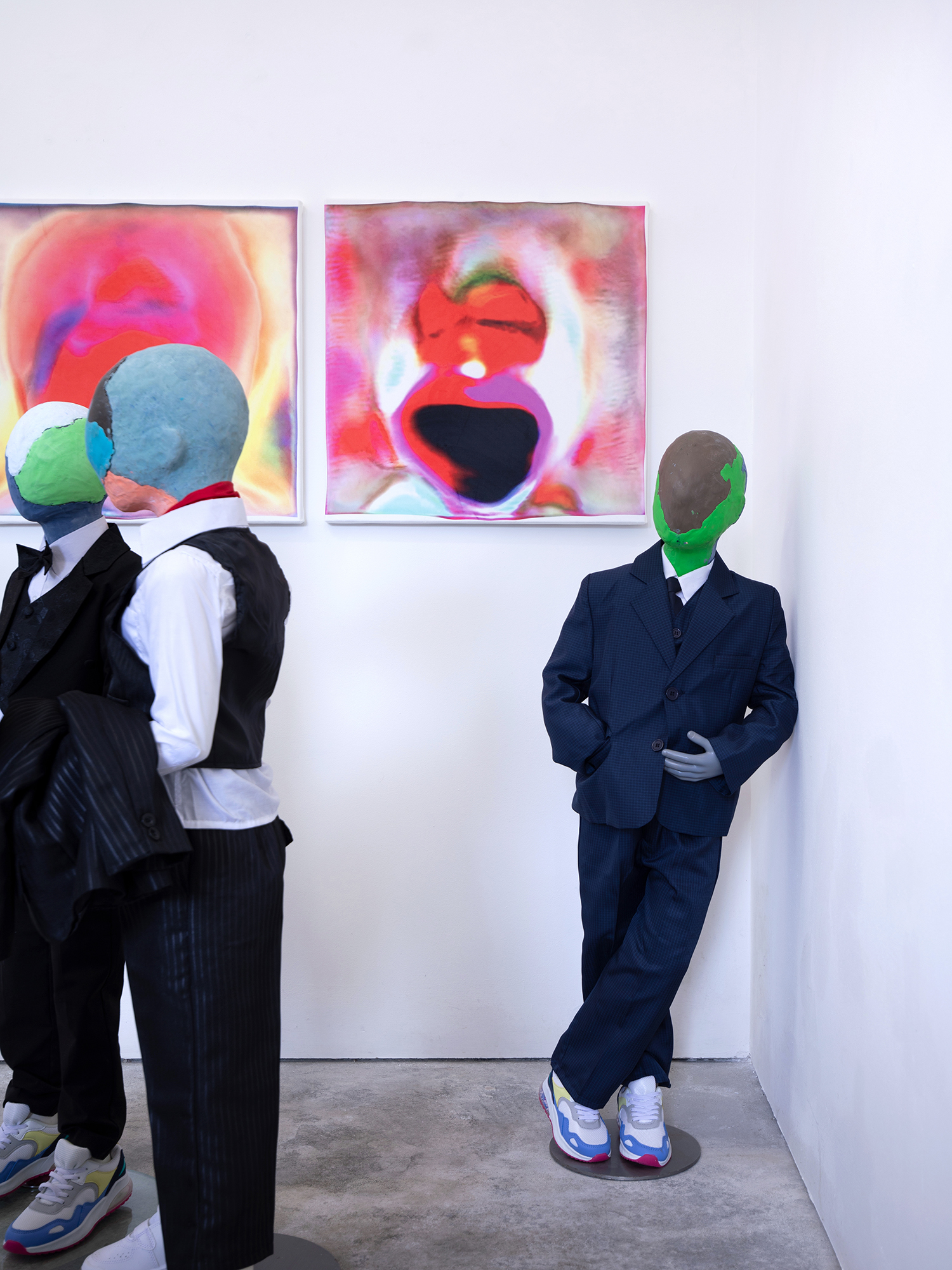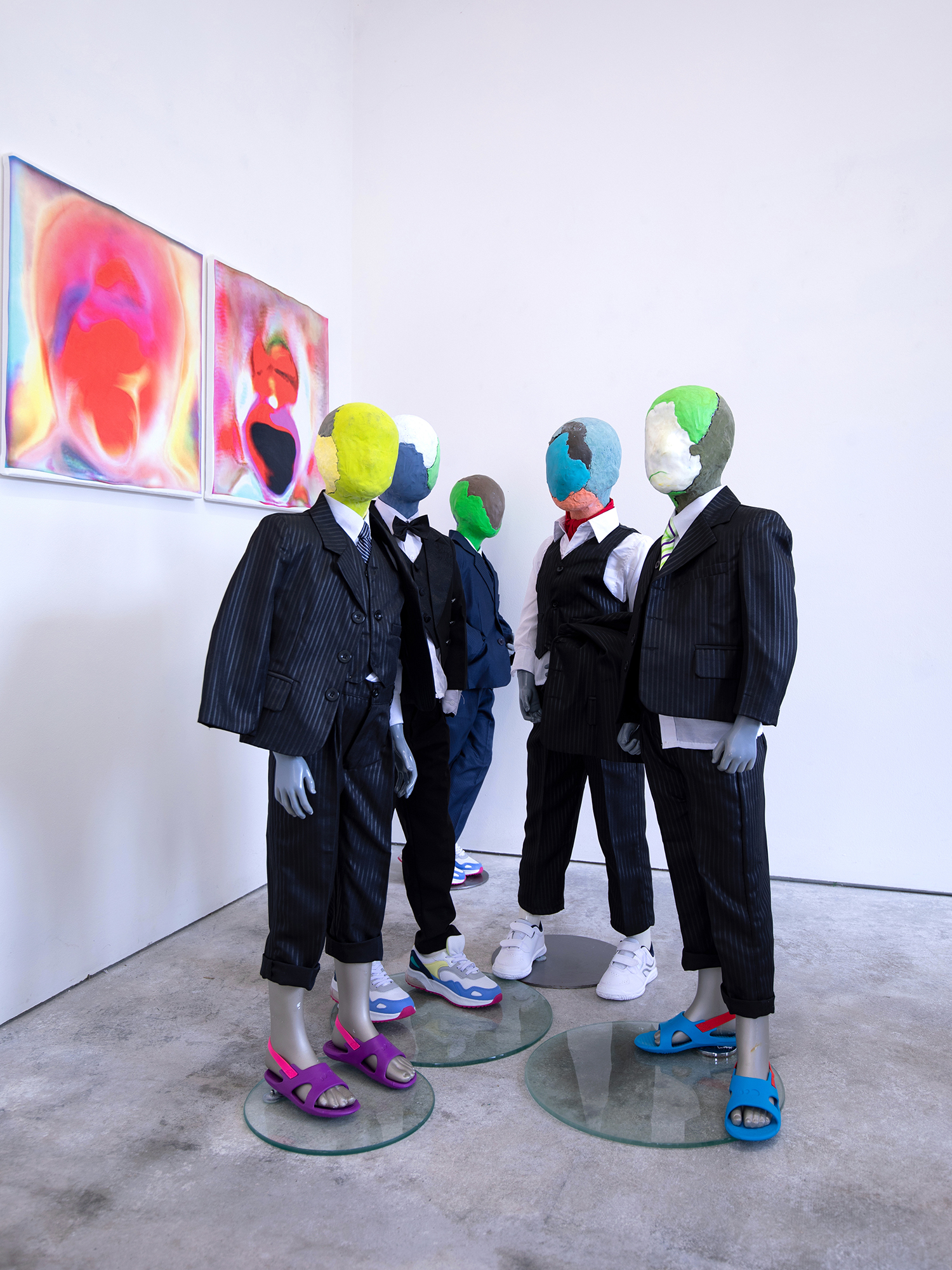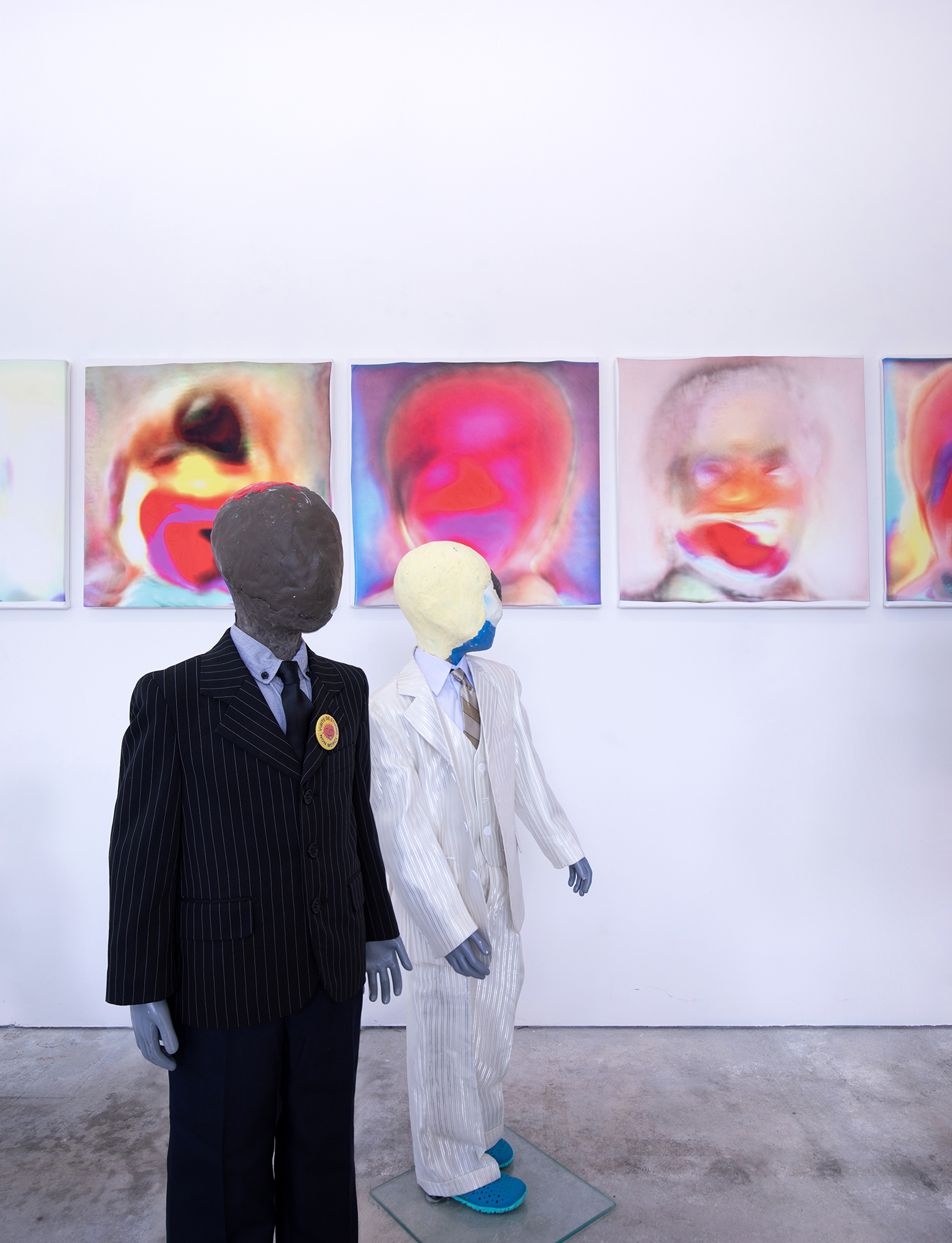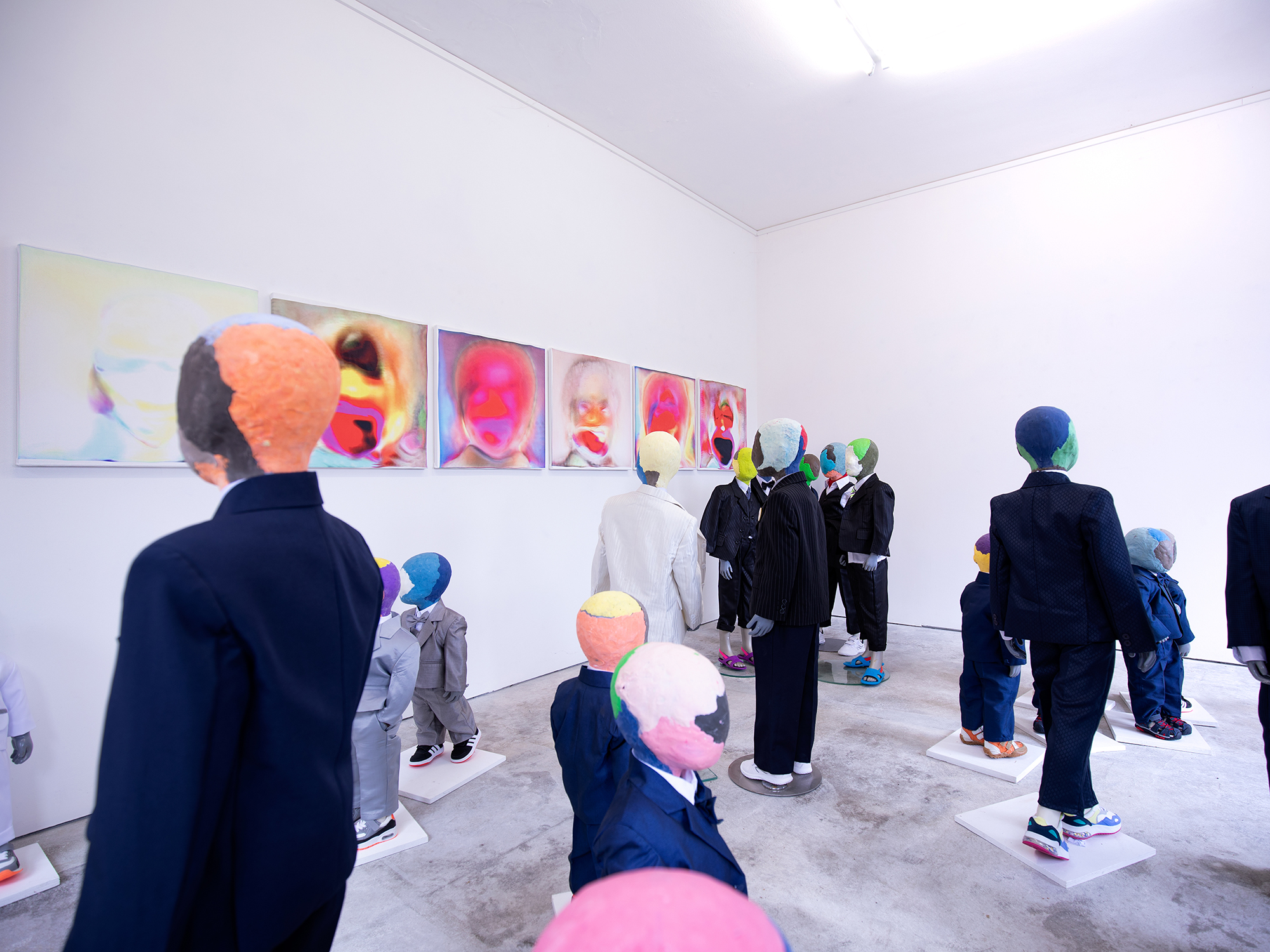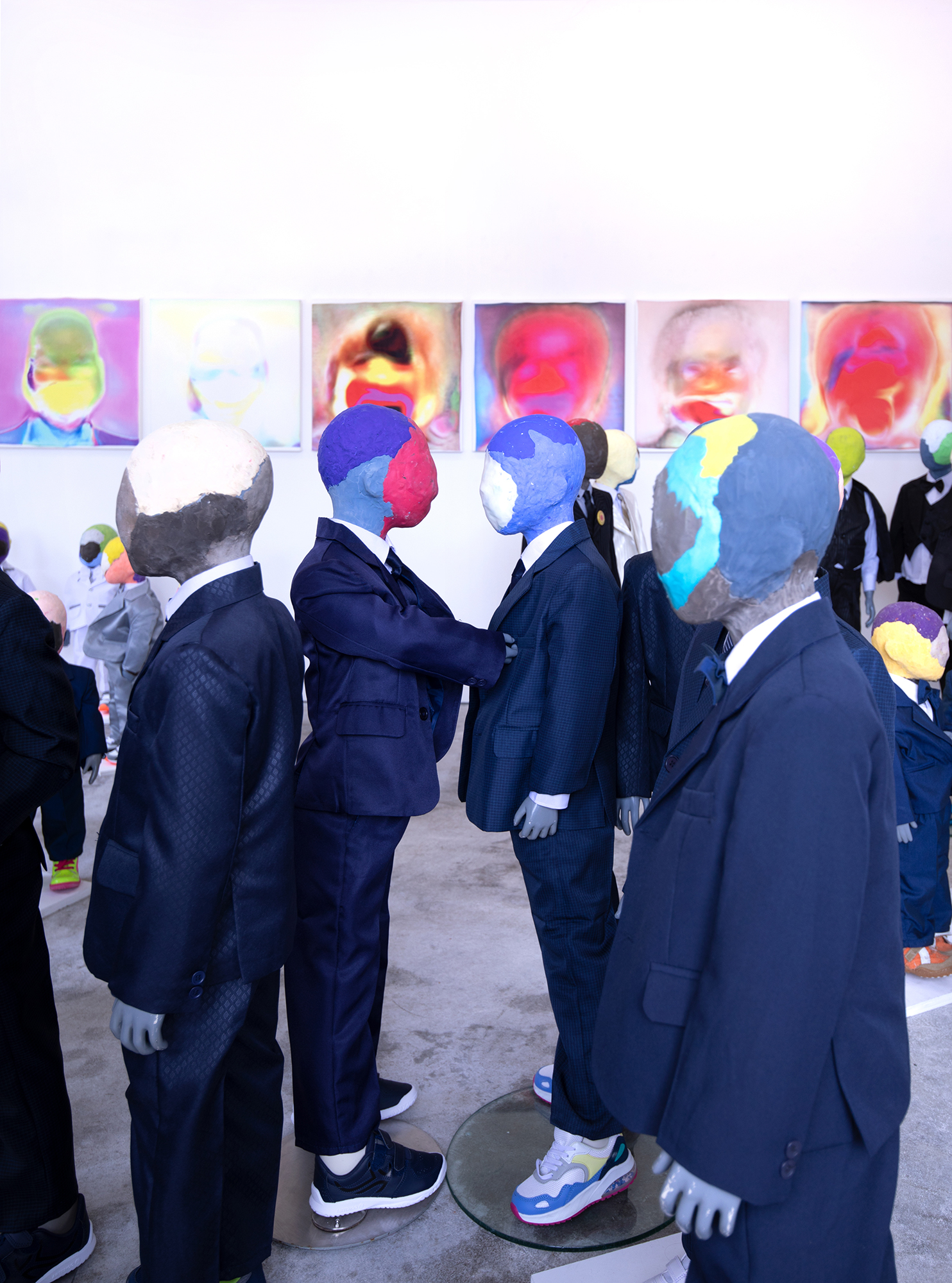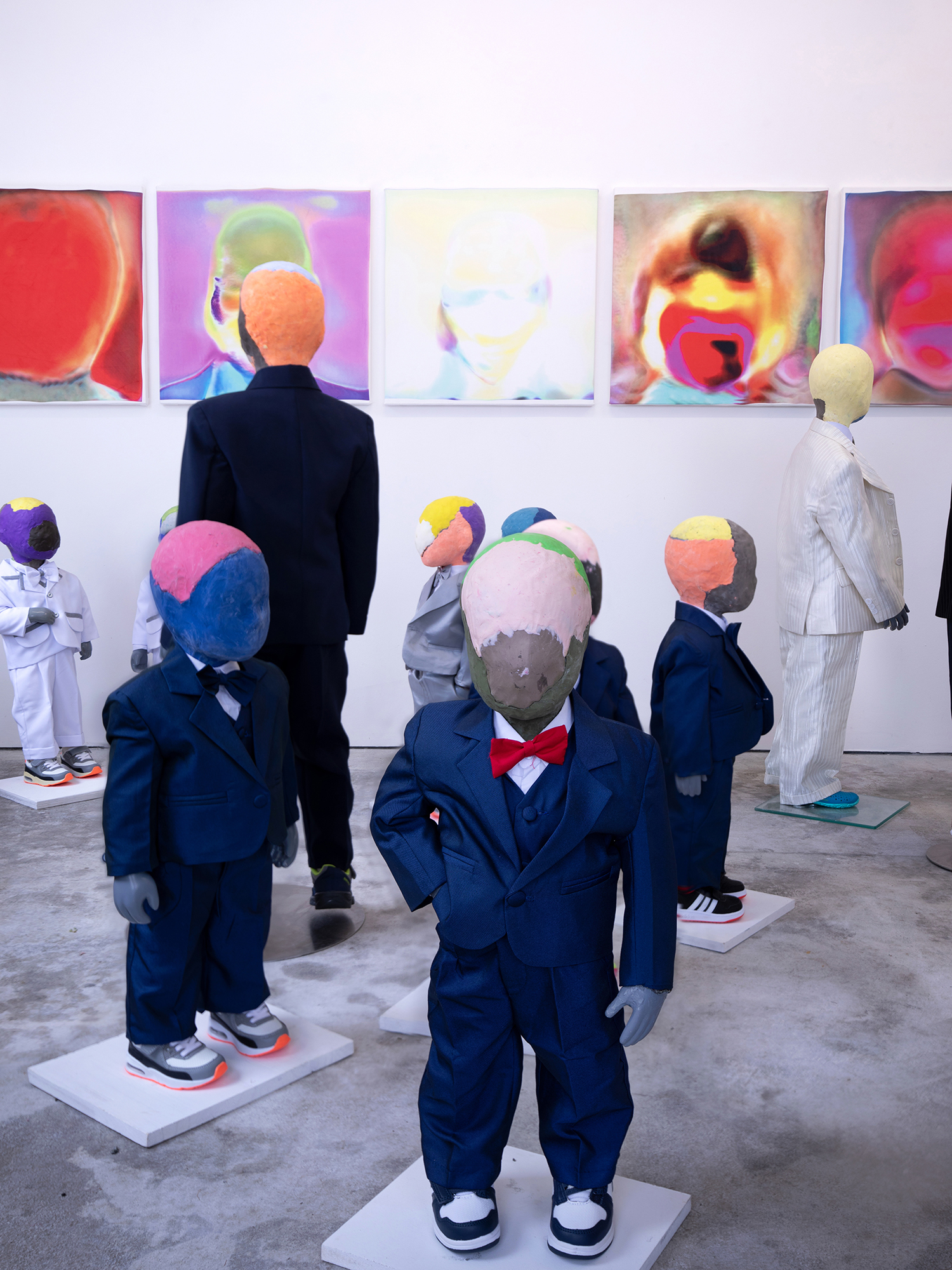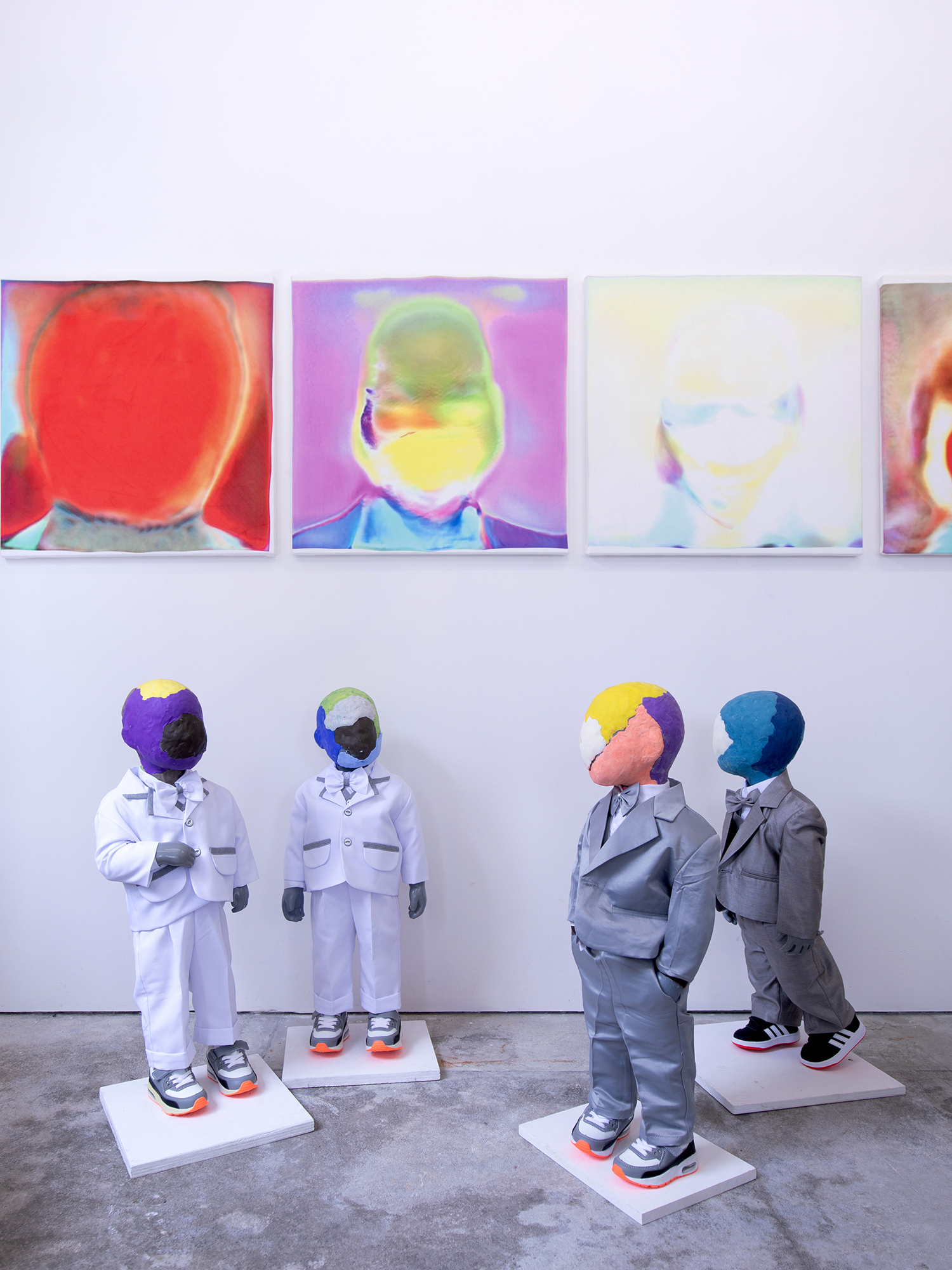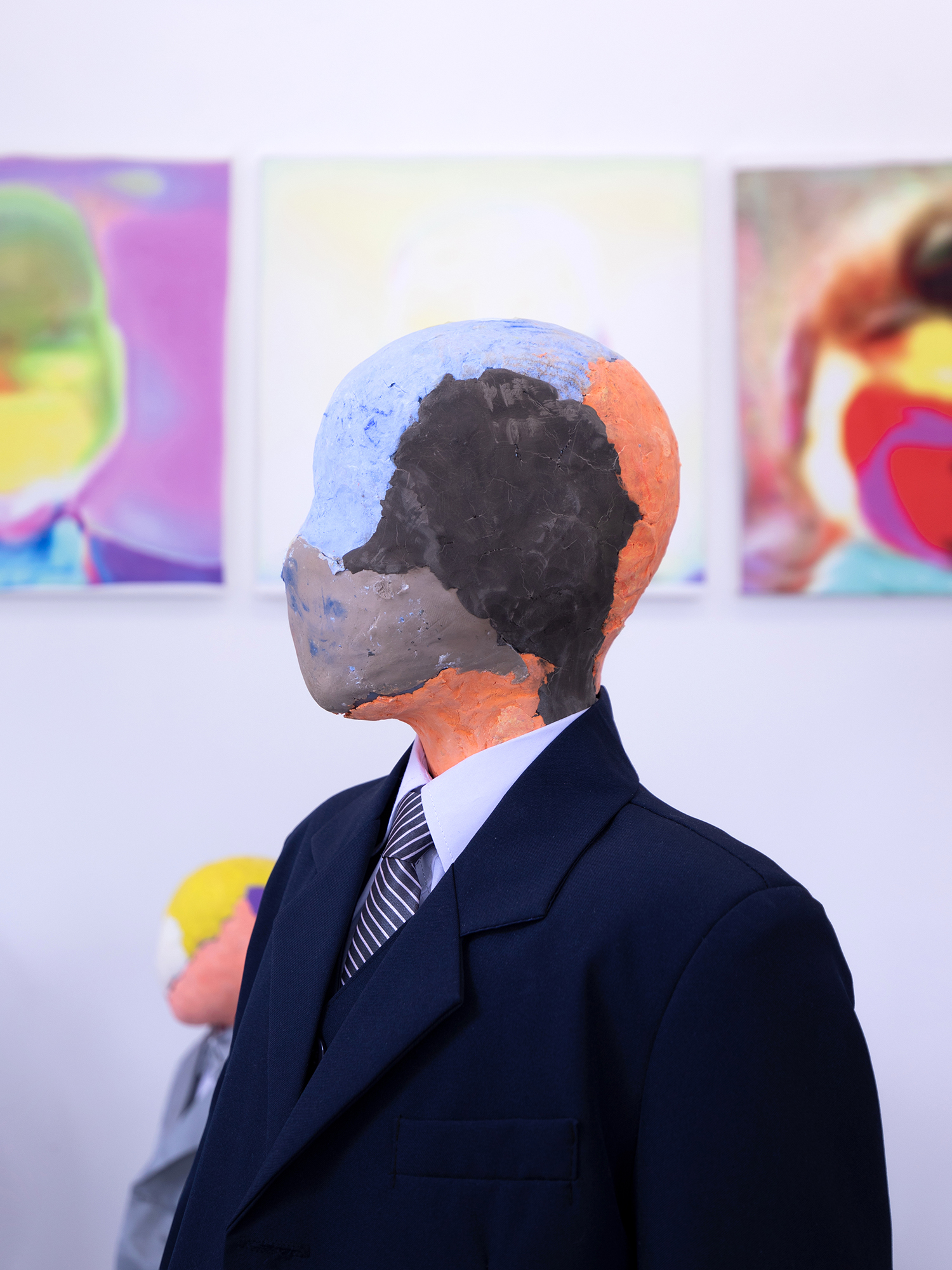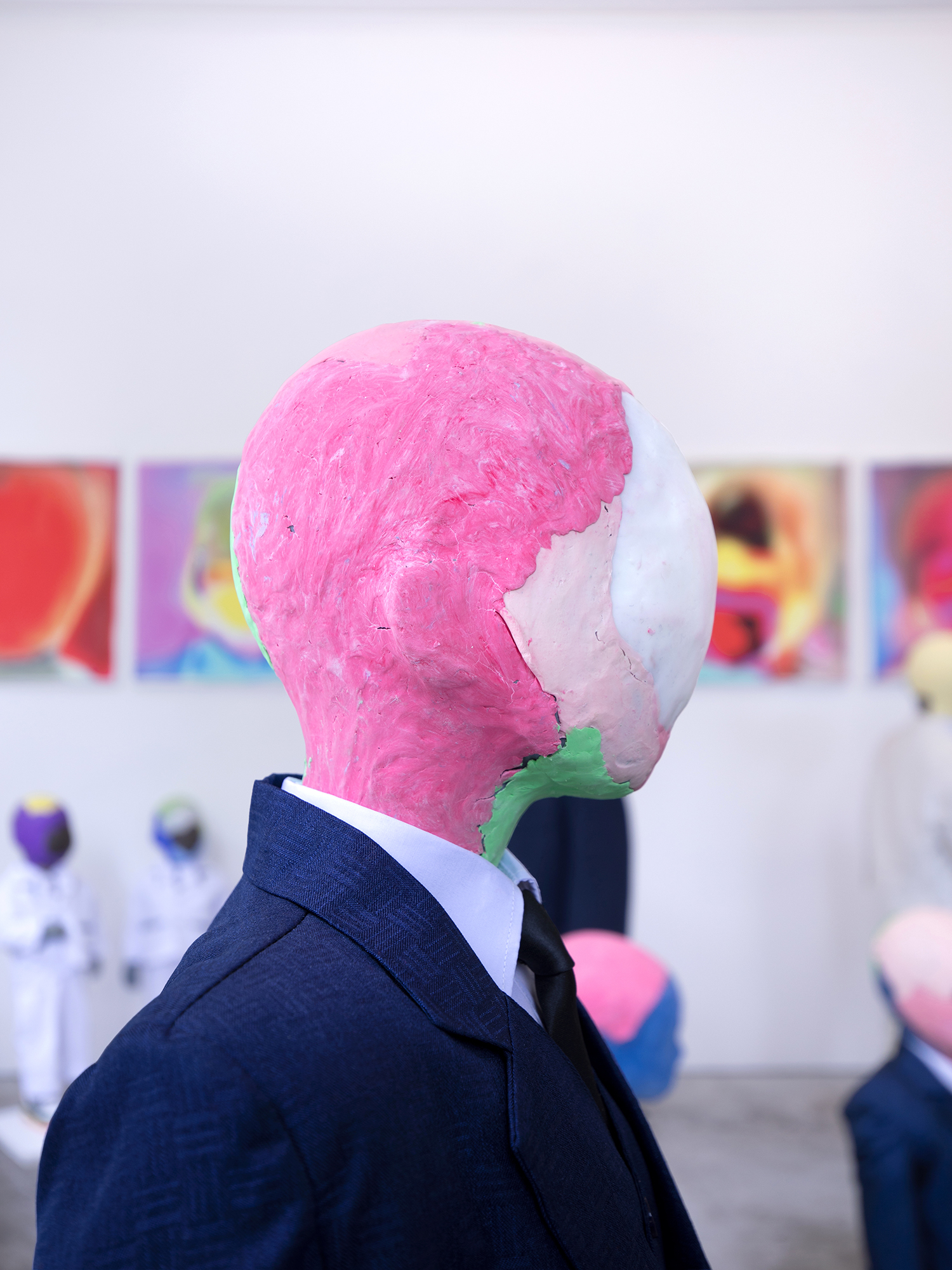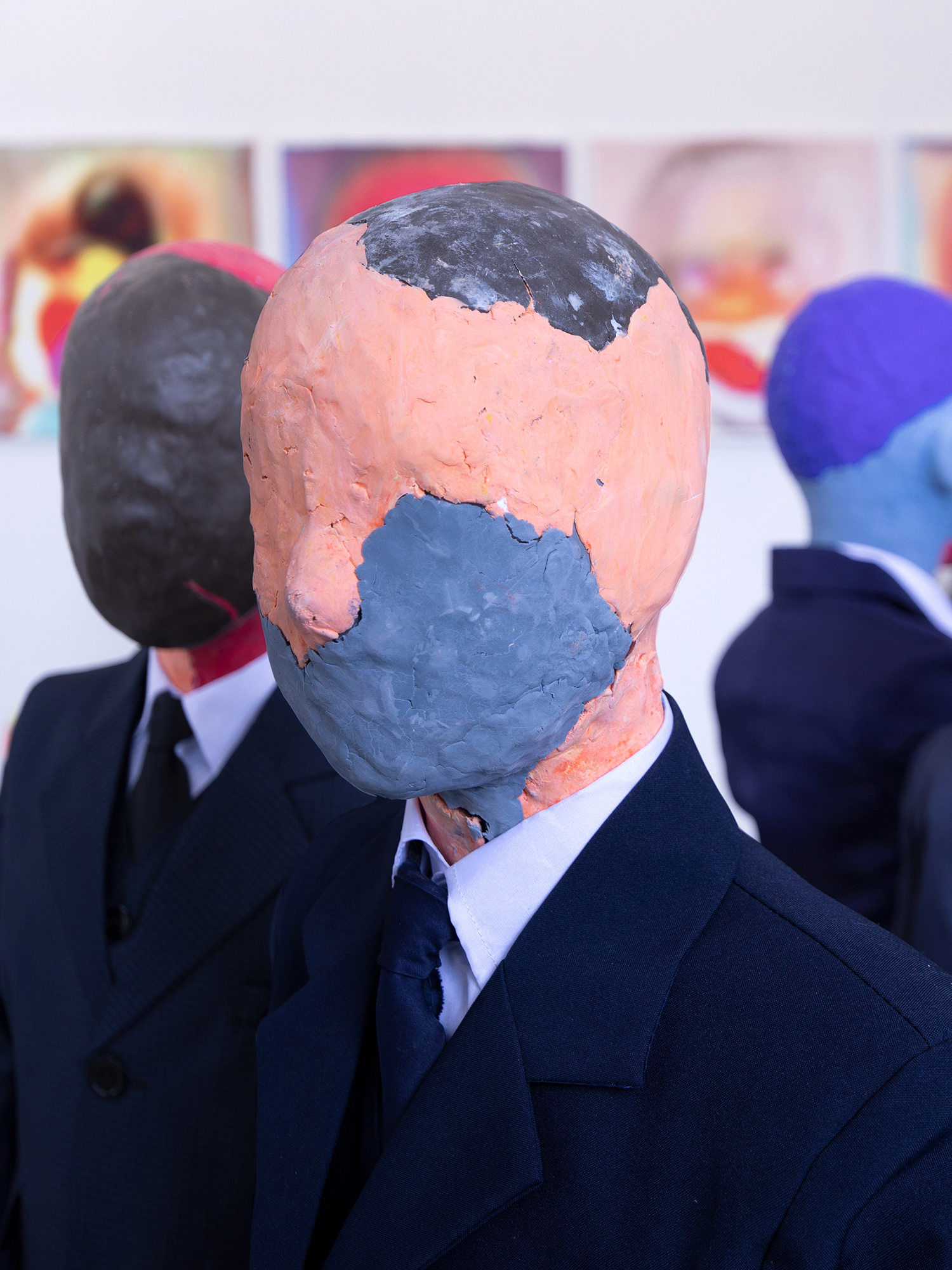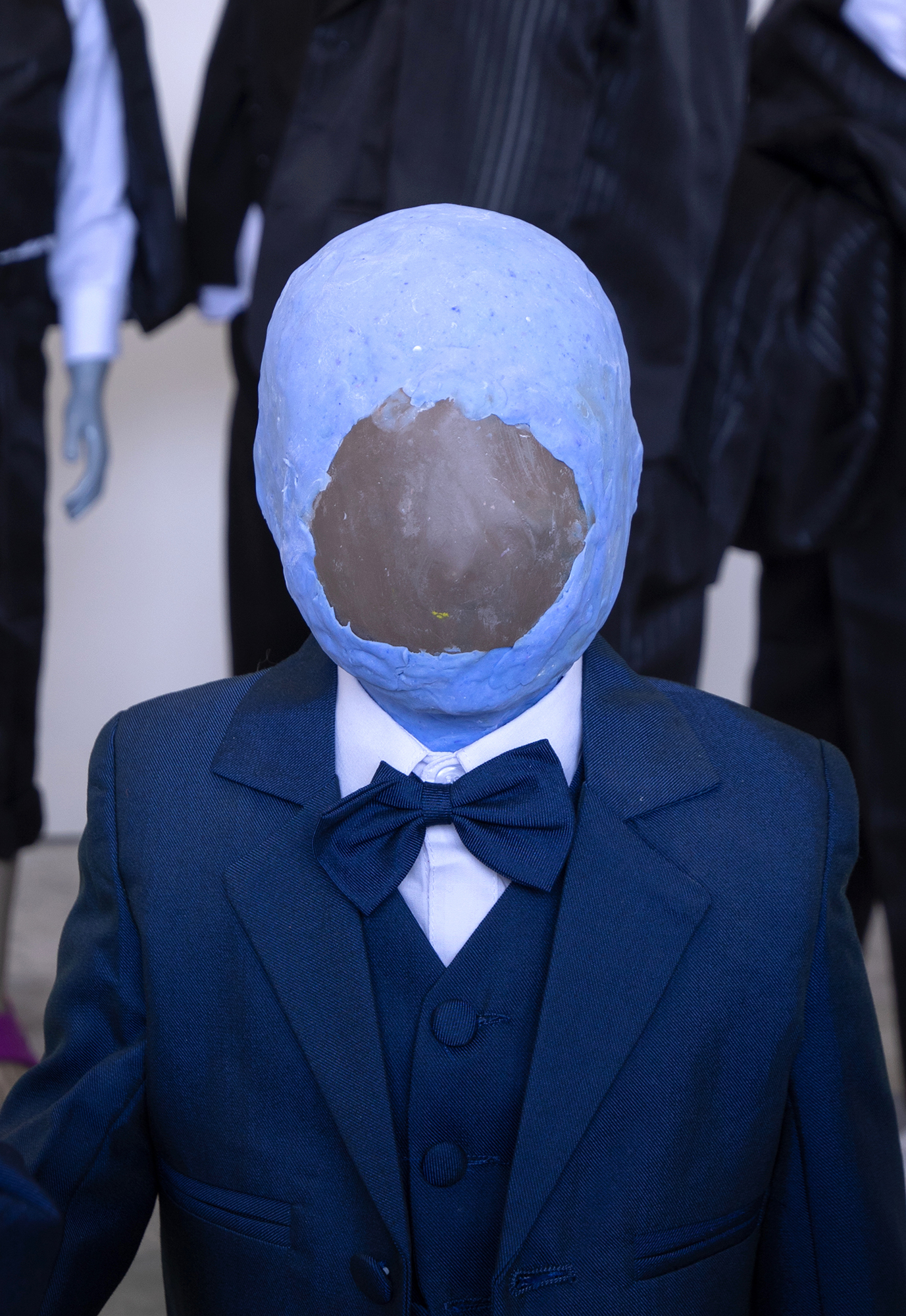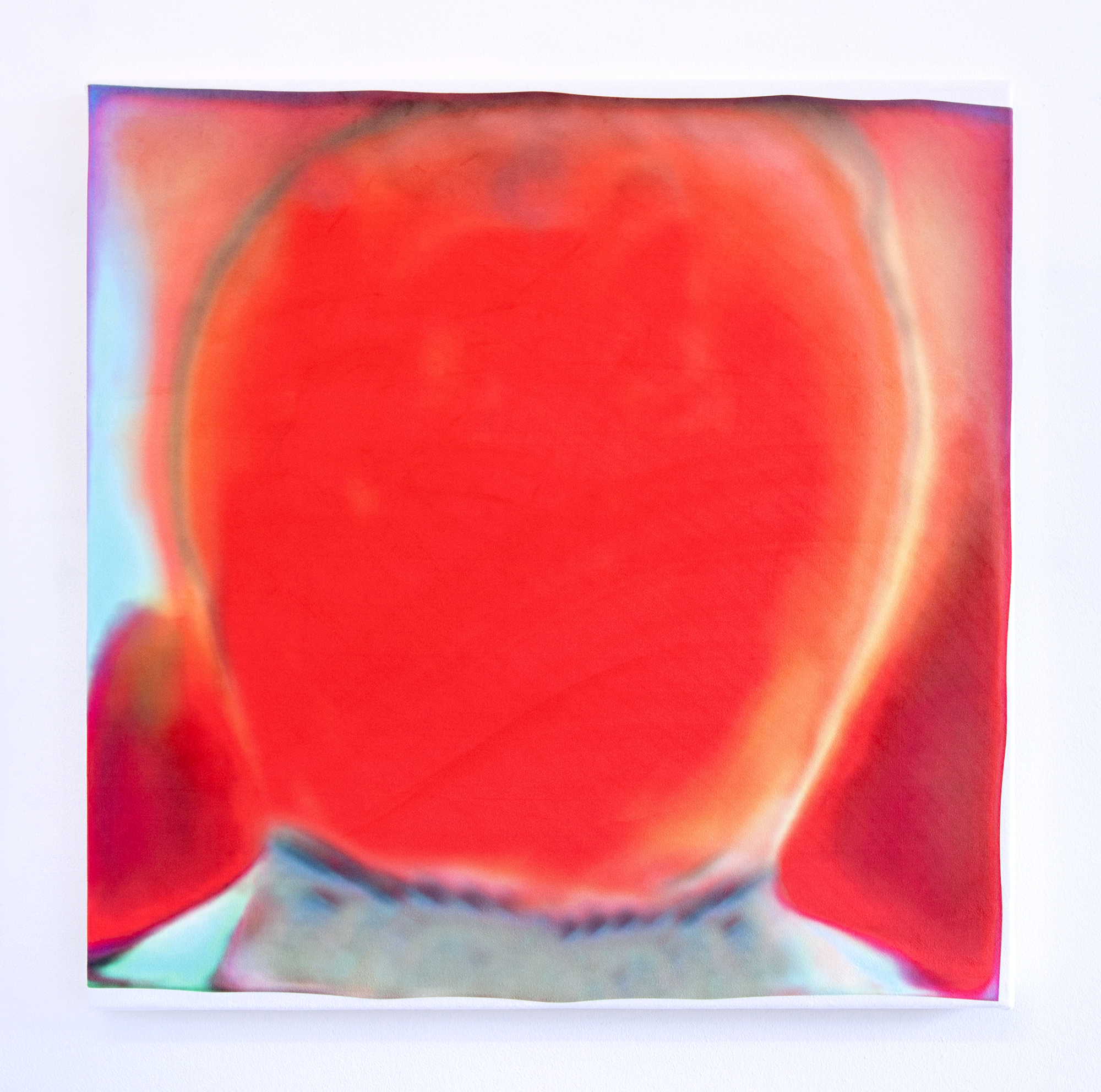 #1 Chaos 1,18382512407382 / Age -0,3 / Gender 0,2 / Width 0,037109375 / Height -1,345 / Yaw -1,30625 / Pitch 0,2 / Asian 0 / Indian 0 / Black 0,86015625 / White 0,1 / Middle Eastern -0,903125 / Latino-Hispanic 0,2 / Art 0,44453125 / Red 0 / Green -0,02109375 / Blue -0,31796875 / Hue 0,334375 / Saturation 0,2 / Brightness 0,81171 / Sharpness 0,1 / Happy -0,5 / Angry -0,5855468 / Blue Eyes 0 / Earrings 0,2 / Eyes Open 0,1 / Mouth Open -1,576953125 / Black Hair 1,99140625 / Blonde Hair 1,548046875 / Brown Hair -1,732421875 / Makeup 0,8765 / Glasses 0 / Facial Hair -0,87 / Hat 0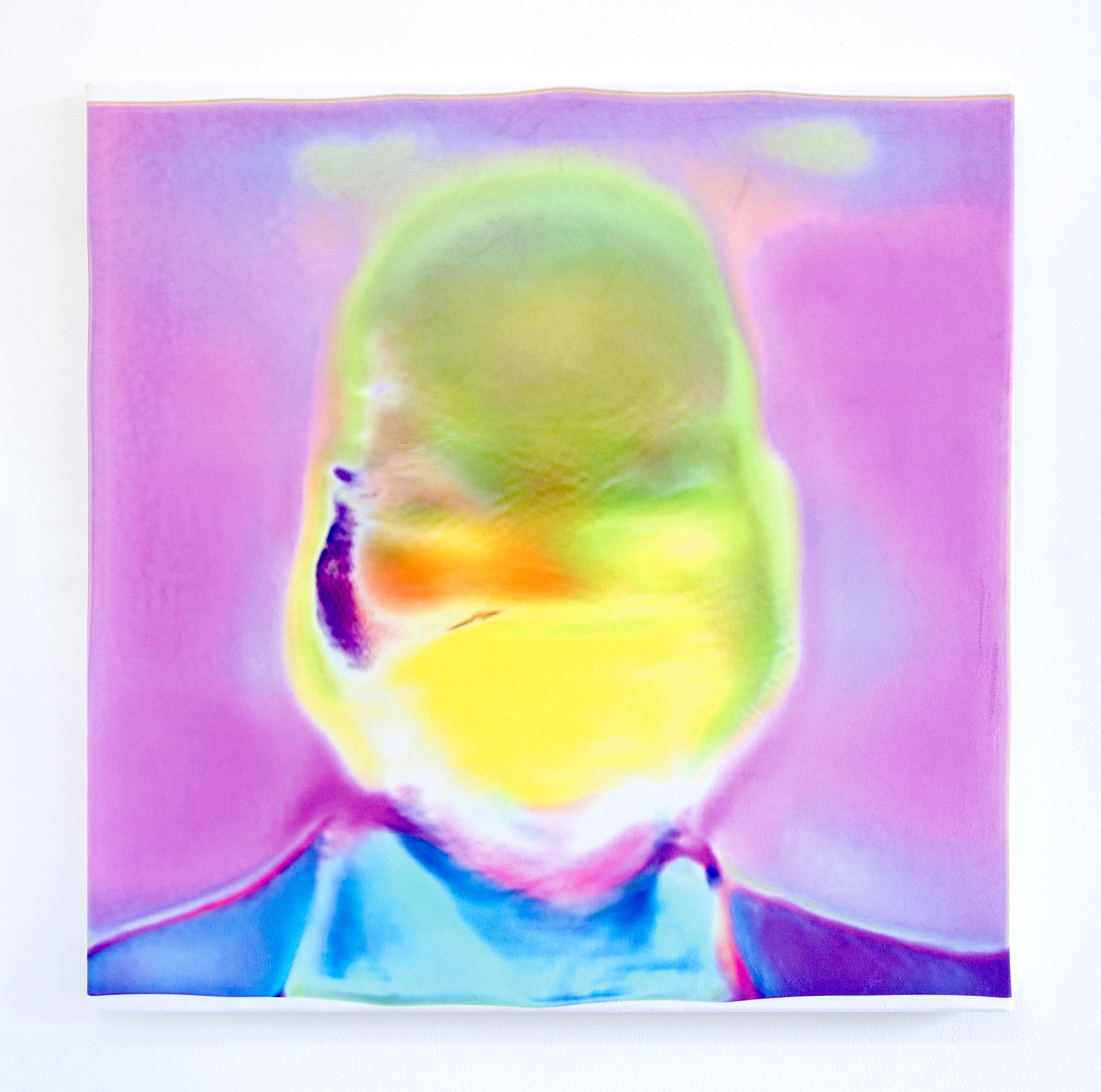 #2 Chaos 1,18382512407382 / Age 0,2 / Gender 0,91171875 / Width 0 / Height 0 / Yaw -0,1 / Pitch -0,741796875 / Asian -1 / Indian -0,3 / Black 0,612890625 / White -0,45 / Middle Eastern -0,053125 / Latino-Hispanic -1,05507825 / Art 0,376875 / Red 0 / Green 0,2 / Blue 0,8765 / Hue 0 / Saturation -1,1644531 / Brightness 1,4375 / Sharpness 0 / Happy 0,98767 / Angry -0,119140625 / Blue Eyes 1,35078125 / Earrings 0,9484375 / Eyes Open 0,9 / Mouth Open -0,1 / Black Hair 0,83984375 / Blonde Hair 1,08203125 / Brown Hair 0 / Makeup 0,6 / Glasses 0,32578125 / Facial Hair-2 / Hat -0,30625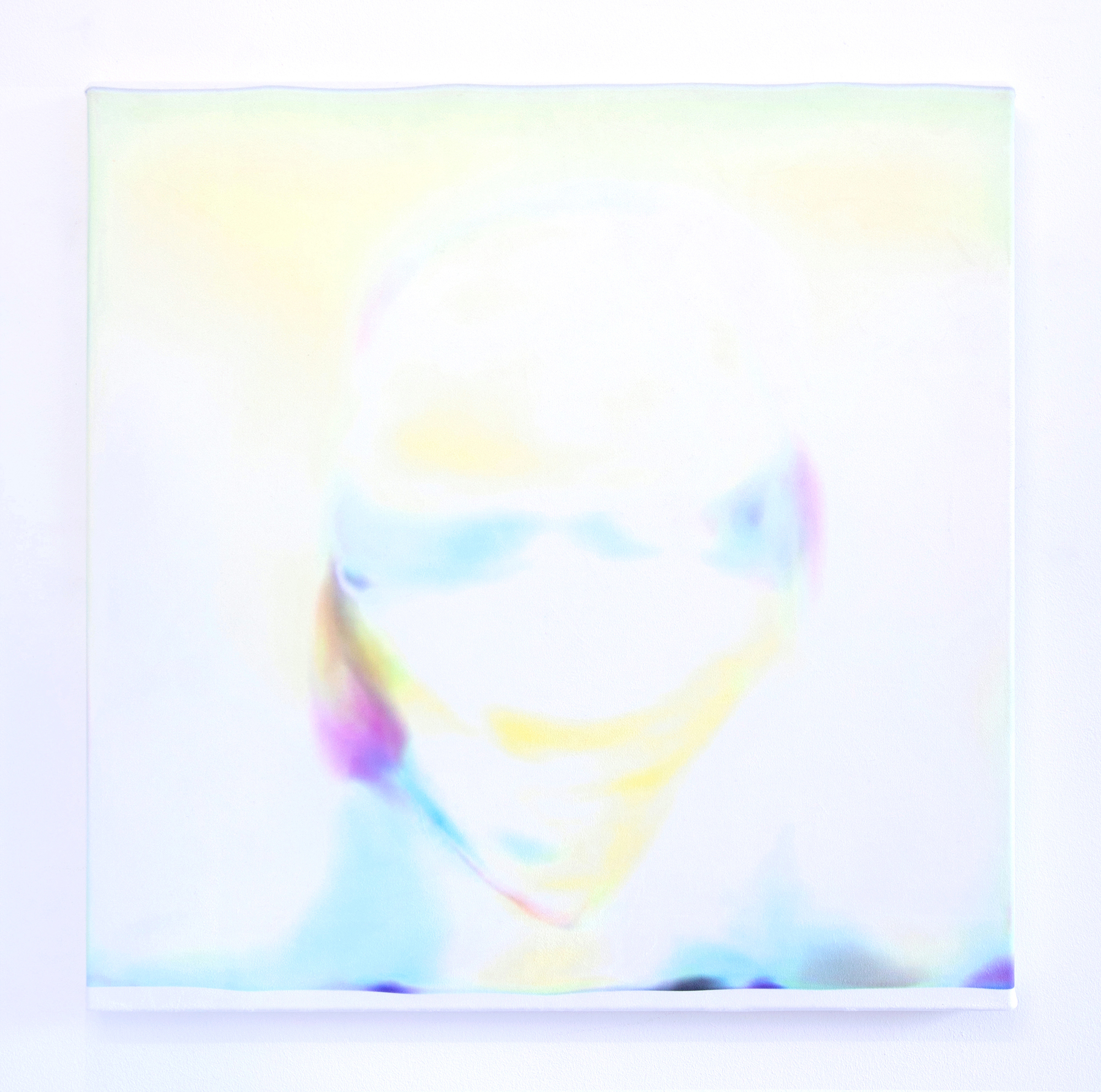 #3 Chaos 1,09189453125 / Age 0 / Gender 0,91171875 / Width 0 / Height 0 / Yaw -1,33671875 / Asian -0,865234375 / Indian 0,319921875 / Black 1,1 / White 1,1 / Middle Eastern 0,779875 / Latino-Hispanic -1,1421875 / Art 0 / Red 0 / Green 0 / Blue 0 / Hue 0 / Saturation 0 / Brightness 1,21484375 / Sharpness 0,765436 / Happy 0,87421875 / Angry 1,26484375 / Blue Eyes 0,482421875 / Earrings 1,0171875 / Eyes Open 0,728515625 / Mouth Open -0,283984375 / Black Hair 0,83984375 / Blonde Hair -1,2265625 / Brown Hair 0 / Makeup 0,242578125 / Glasses 0,7597625 / Facial Hair -1,30585937 / Hat -0,30625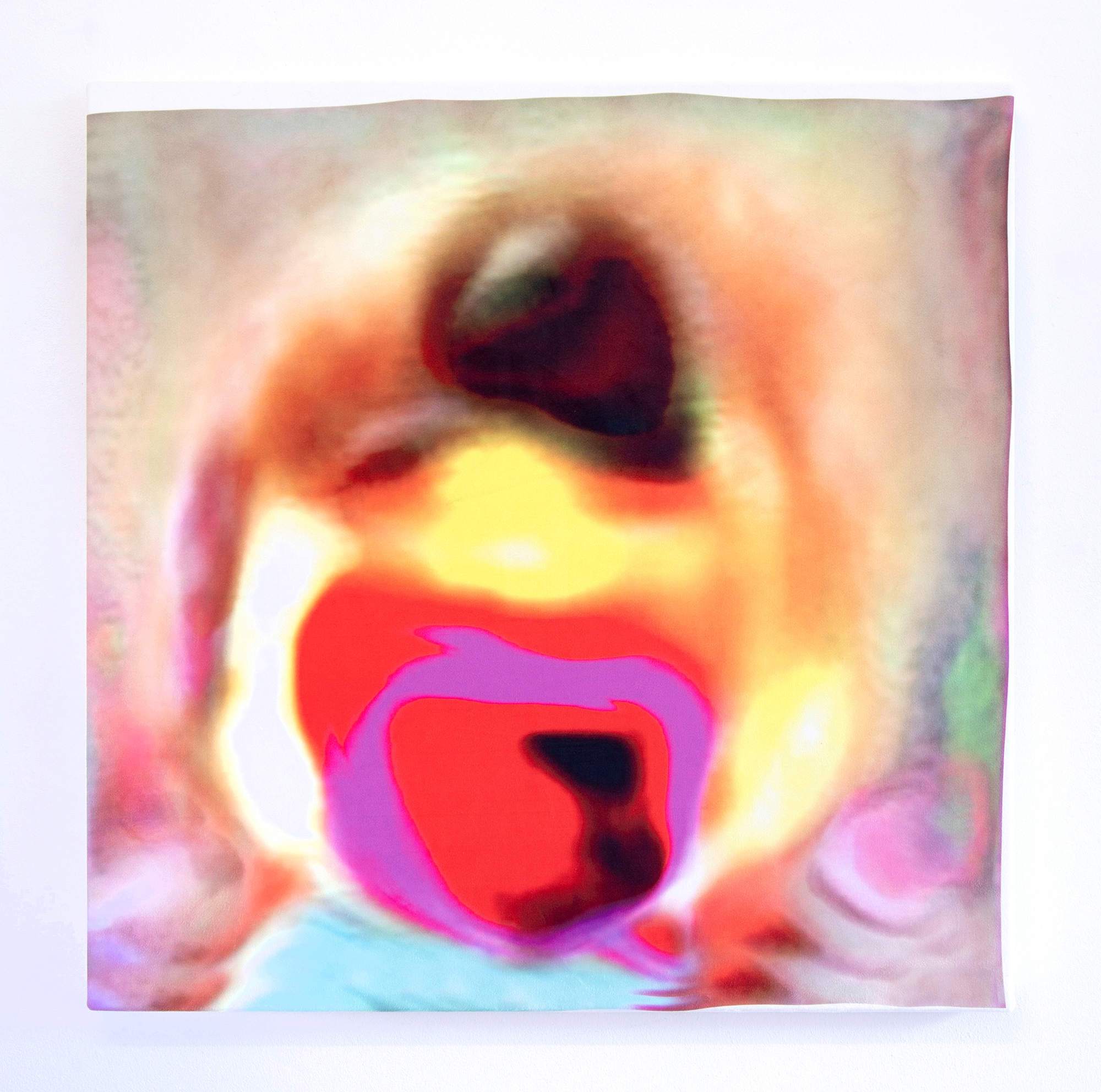 #4 Chaos 1,008183 / Age 0 / Gender -0,7654 / Width 0 / Height 0 / Yaw 0 / Pitch 0 / Indian -0,1 / Black 0,8754 / White 0,86543 / Middle Eastern 0,97 / Latino-Hispanic 0,87643 / Art 0 / Red 0 / Green 0 / Blue 0 / Hue 0 / Saturation 0 / Brightness 0,3 / Sharpness 0 / Happy 0,87 / Angry 0 / Blue Eyes -0,78 / Earrings -0, 3 / Eyes Open 0 / Mouth Open 0,90234375 / Black Hair 0 / Blonde Hair 0,88 / Brown Hair -0,432 / Makeup 0 / Glasses 0 / Facial Hair 0 / Hat 0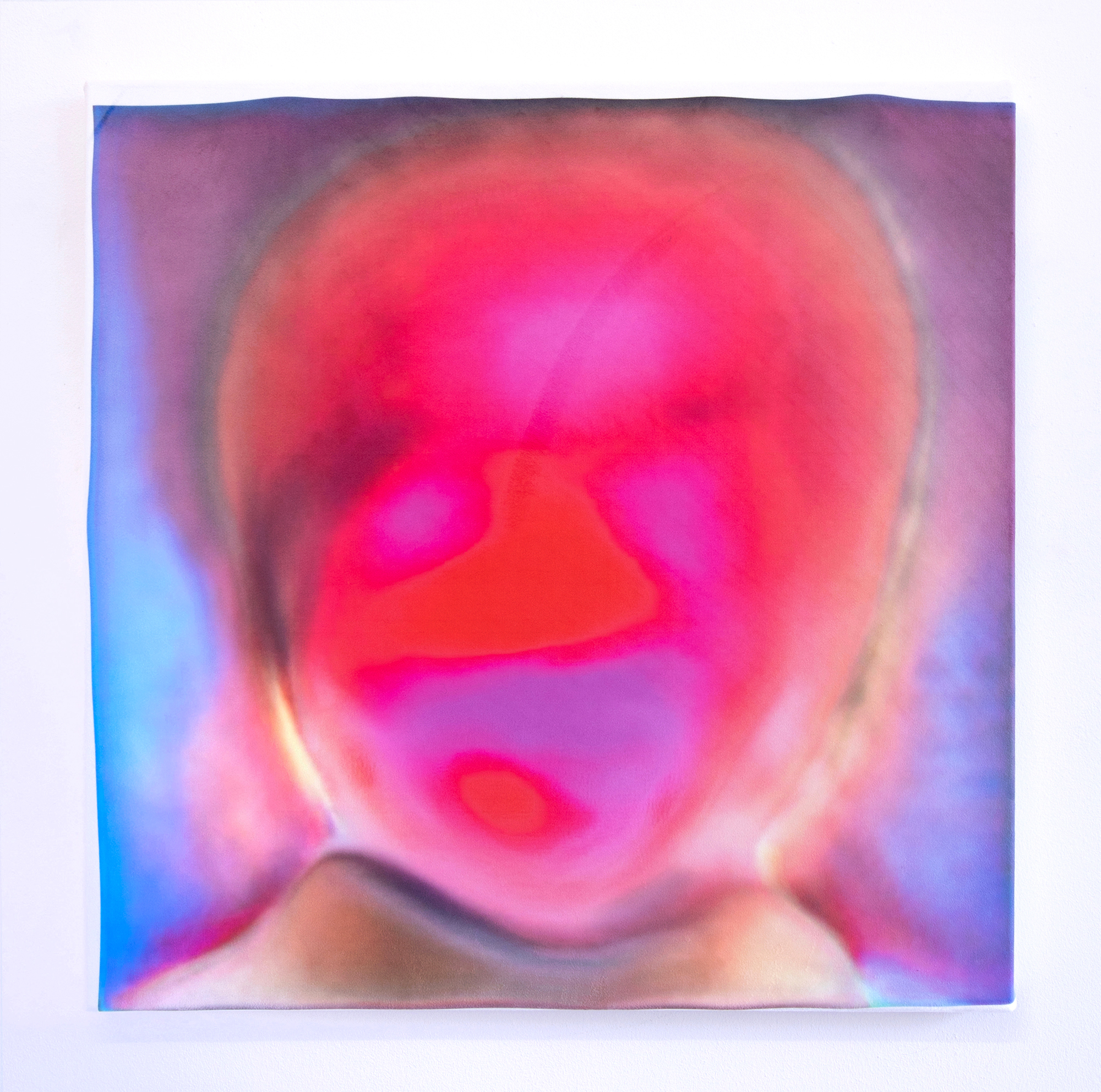 #5 Chaos 1,18382512407382 / Age 0 / Gender 0,1 / Width 0,90234375 / Height 0 / 0,860546875 / Yaw 0 / Asian 0,02890625 / Indian 0,1 / Black 0,3875 / White 0,1 / Middle Eastern 0,94765625 / Latino-Hispanic -0,2 / Art 0,1 / Red 1,8765 / Green 0 / Blue 0 / Hue 0 / Saturation 0 / Brightness -0,1976 / Sharpness 0 / Happy 0 / Angry 0 / Blue Eyes 0,8754 / Earrings 0,2 / Eyes Open -0,1 / Mouth Open 0,6 / Black Hair 0 / Blonde Hair 0 / Brown Hair 0 / Makeup 0 / Glasses 0,2 / Facial Hair 0 / Hat 0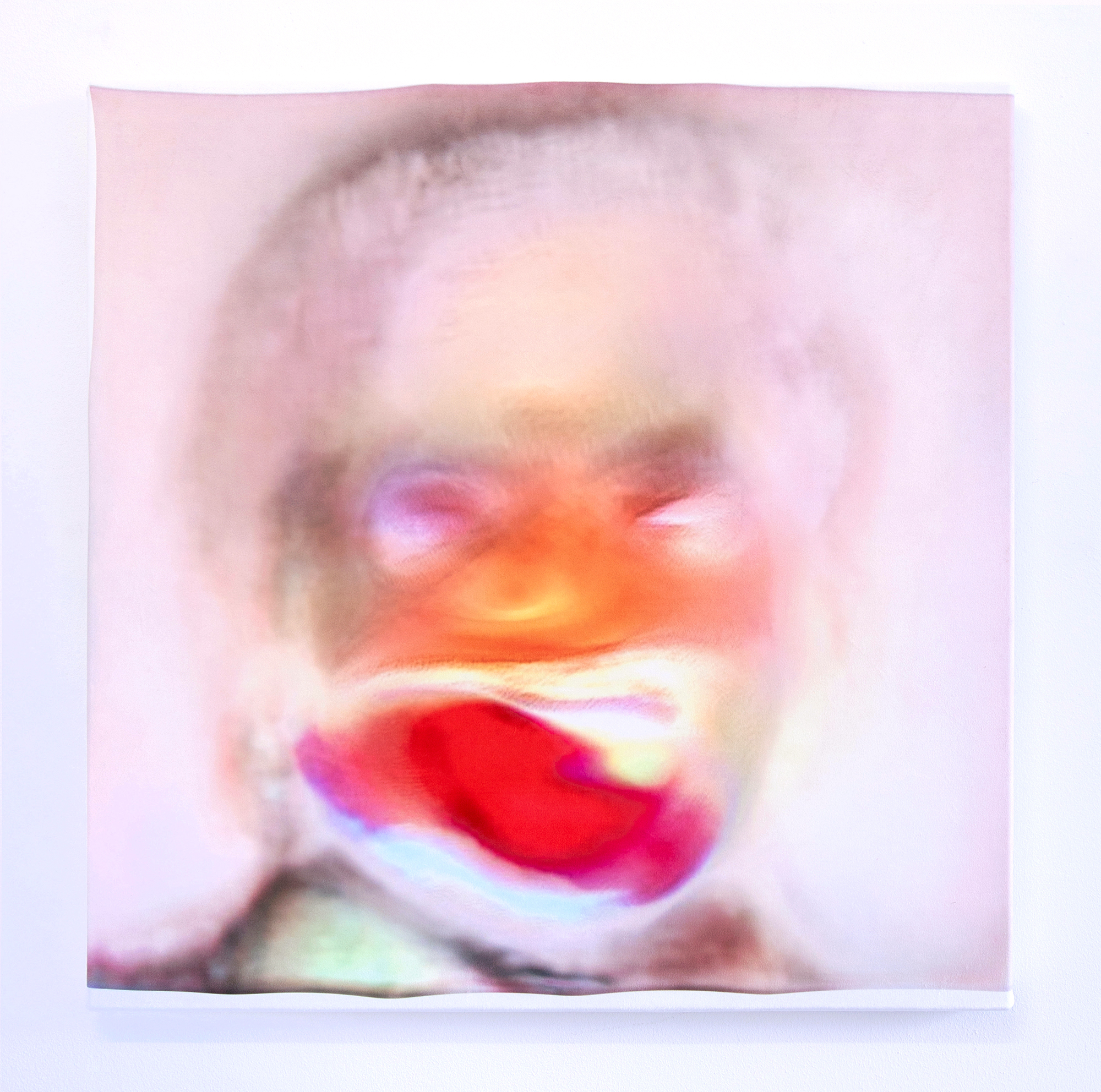 #6 Chaos 1,05498875 / Age 0 / Gender 0,876 / Width 0,754/  / Height 0,26015 / Indian 0,1I87 / Black 0,887 / White -0,768 / Middle Eastern -0 / Latino-Hispanic 0  / Art 0,59375 / Red 0 / Green 0 / Blue 0 / Hue 0 / Saturation 0 / Brightness 0,3 / Sharpness 0,875 / Happy 0,865 / Angry 1,975 / Blue Eyes 0 / Earrings 0,1 / Eyes Open 0,865 / Mouth Open 0,90234375 / Black Hair 0 / Blonde Hair 0 / Brown Hair 0 / Makeup -0,4 / Glasses 0,066015 / Facial Hair 0 / Hat 0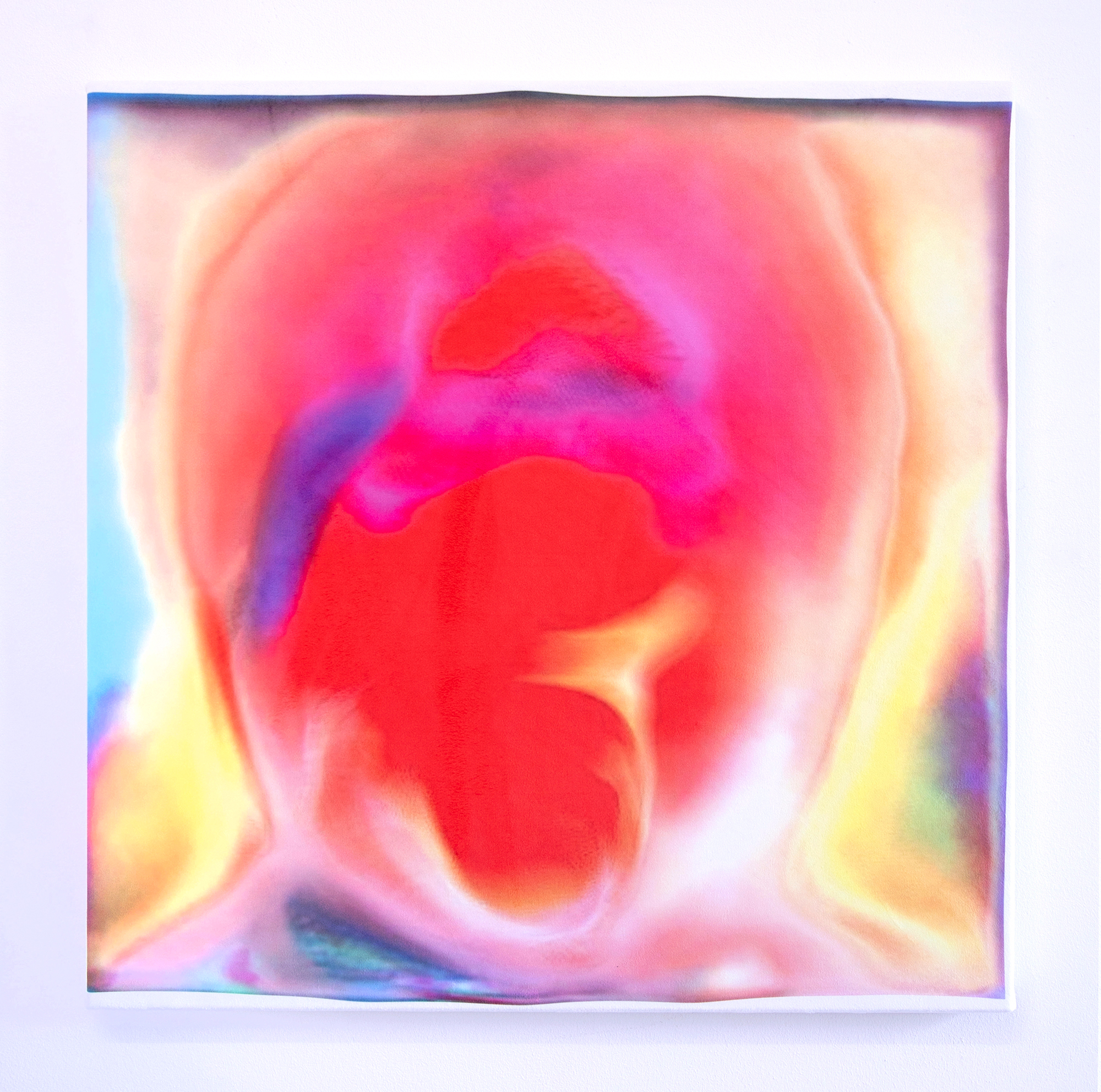 #7 Chaos 1,48382512407382 / Age 0 / Gender 0,1734375 / Width 0 / Height -0,425 / Yaw 0 / Asian -0,1 / Indian -0,875625 / Black 1,15625 / White 0,624609375 / Middle Eastern 0 / Latino-Hispanic 0 / Art 0 / Red 0 / Green 0 / Blue 0,1 / Hue 0 / Saturation 1,9653 / Brightness 0 / Sharpness 0,976 / Happy -0,82734375 / Angry 0,2703125 / Blue Eyes 0,87 / Earrings -2 / Eyes Open -2 / Mouth Open 0,8765625 / Black Hair 0 / Blonde Hair 1,11875 / Brown Hair -0,7653125 / Makeup 0,65078125 / Glasses 0 / Facial Hair -2 / Hat 0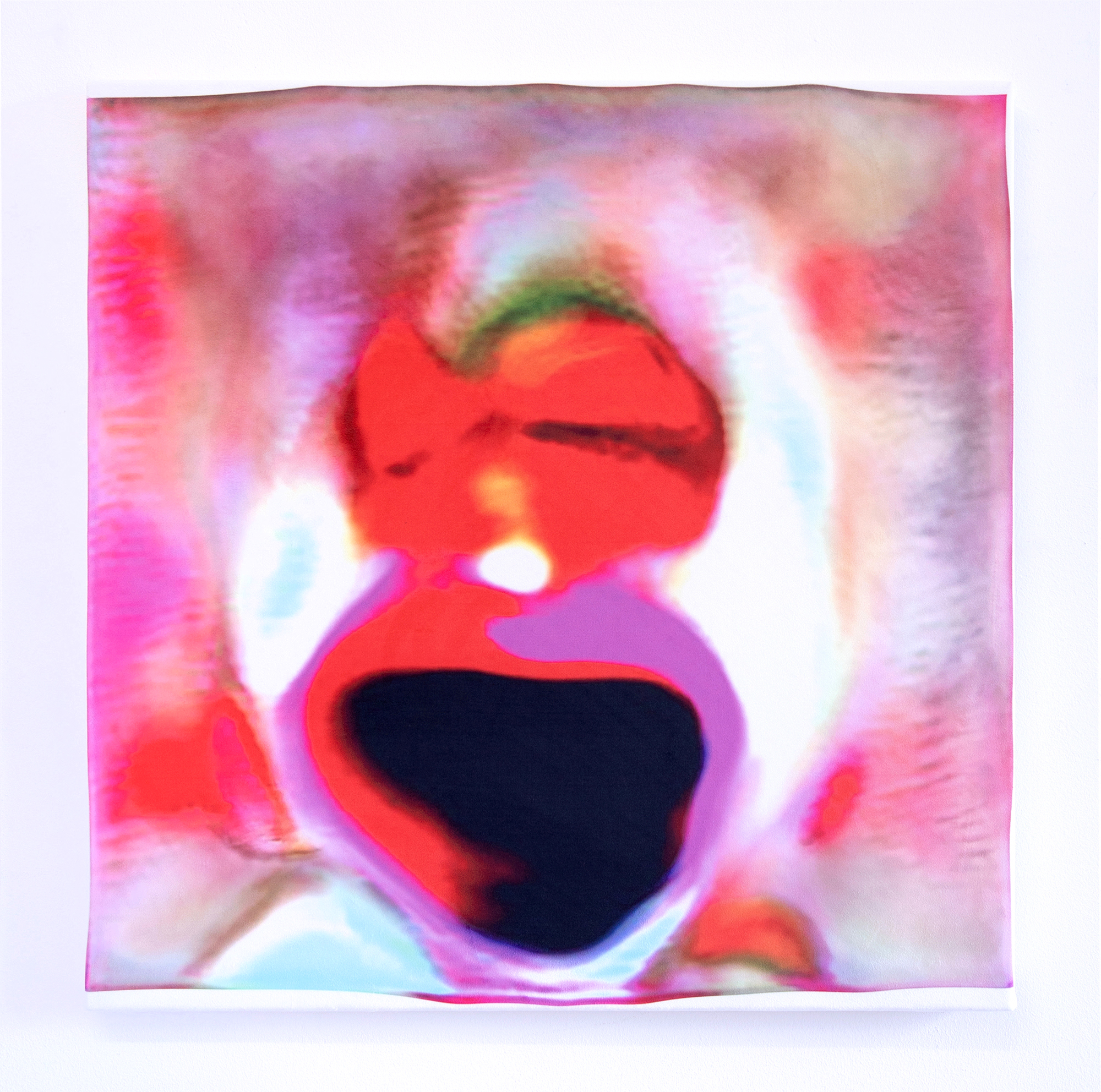 #8 Chaos 1,2838251240738183 / Age -0,1 / Gender 0,205859375 / Width 0 / Height 0 / Yaw 0 / Asian -0,1 / Indian 0 / Black 0,116796875 / White 0,1 / Middle Eastern 0,94765625 / Latino-Hispanic -0,2 / Art 0,583984375 / Red 0 / Green 0,875 / Blue 0 / Hue 0 / Saturation 0 / Brightness 0,2 / Sharpness 0 / Happy -1,877545 / Angry 0,8765 / Blue Eyes 0 / Earrings 0,1 / Eyes Open 0,1986 / Mouth Open 0,6 / Black Hair 0, 01 / Blonde Hair 0,186328125 / Brown Hair 0,76 / Makeup -0,10234375 / Glasses 0,2 / Facial Hair -0,8754 / Hat 0